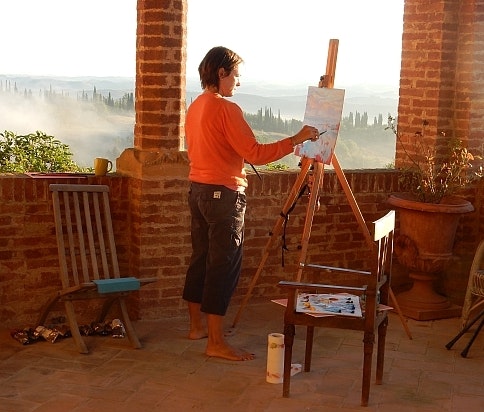 Annabel painting from the balcony and Jackie giving us a lesson in core balance with a 360 degree view of the Siennese Crete behind. Core....! Strength...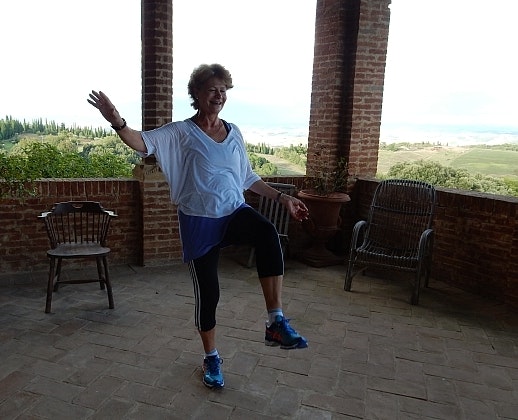 All levels are welcome on this holiday and NOTHING is compulsory, except eating and drinking. You can choose to do EITHER/OR and we are devising a programme which will enable you to do both! can even change your mind mid-week if the lure of the Nordic poles or the home-made pasta becomes too much for you. Mandy's painting trips have taken her all over the world, but Italy is her spiritual home and on this trip she will help you to develop your own style in any medium, with realistic aims and most importantly with huge enjoyment. There will be colour workshops and watercolour demonstrations for added inspiration.

The Fitness part will be led by Jackie, an experienced instructor who specialises in Aerobics, Body conditioning with Pilates, Flexibility, Step and Nordic Walking. This week's aim would be to improve your personal level of fitness whilst enjoying the stunning surroundings. The undulating hills and tracks around the Campriano estate are perfect for any level of walking - BUT it must be noted that there is occasionally steep terrain, not least around the house, so if you are a little uneasy on your pins, this might not be the holiday for you!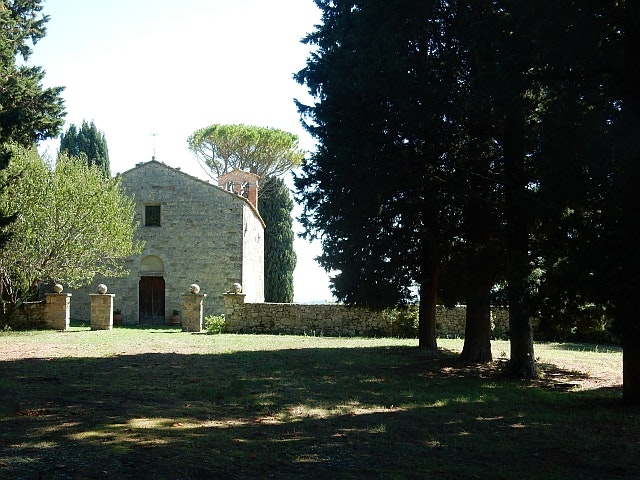 Centuries ago, there was a Benedictine monastery at Campriano and a very spiritual atmosphere prevails. Since 1930 it has belonged to the Neri family and Ranuccio has worked tirelessly to make the 500 hectares of Olive Oil and vineyards the business it is today. Wine tours and tastings are a must! The villa is roomy with accommodation for 5 couples and 2 singles. Two enormous balconies adorn the front of the house and double up as an out-door studio or gym! There is a private dining room below the house where all meals are taken in true Tuscan fashion. www.campriano.it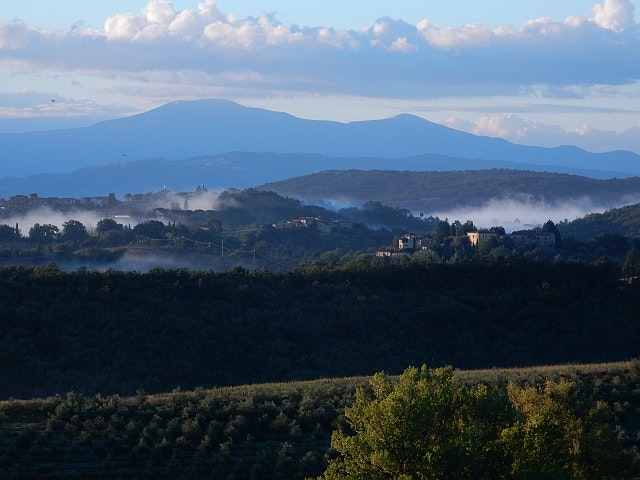 View from the balcony, looking south towards Murlo
Quite apart from wine-tasting, this area is not short of things to do and see. For example there is a golf club at La Bagnaia or Buonconvento within 10km and many famous Tuscan towns are a day trip away. (But you never want to leave) The culture in and around Siena is well documented and no one can resist a cocktail in the famous Piazza del Campo.
Reviews
Finally, a HUGE big thank you and congratulations on providing such a fantastic and really quite magical week of painting - and the odd bit of abs, pecs and pelvic lifts. Much love, Helen.
" I loved every minute from beginning to end,everyone was so friendly and kind and warm that i received a grace that I have not tasted for a while. Campriano itself is overflowing with good grace one can literally touch it! " Jill
Thank you so much for all your hard work in organising the week. It was such fun and a really lovely group of people. Lovely to have been back in Campriano and to be painting with like minded souls...
What an amazing week - it really was wonderful and I can't believe how extraordinarily generous Ranuccio has been. It really is a special place - driving down I kept looking at the views thinking how amazing they all were, driving back to Pisa, wonderful as the journey was, nothing compared to Campriano! Thank you so much for including me in - and with such a great group of people - it was all such fun, so informing and enjoyable J
PRICE from 1300 per person includes Full-board, all tuition and house wine. (Bring your own spirits!) This is a beautiful but quirky house, so some bedrooms have to share a bathroom and we have tried to price accordingly. Prices do NOT include any travel, tips OR laundry.
Do telephone Amanda Cooper on 07778 476517 or 01608 676504

or Jackie Colburn on 01451 860212 mob 07850 204191