Header: Patsy ( aged 90) painting in Morocco. Our brilliant guides Mohammed and Latif never left Patsy's side, even when she rather imperiously waved her dirty palette at which sign, they would rush down to the dockside and swill it in filthy water!
How do you go about selecting the right painting holiday to suit your needs? Do you go local to an 'idyllic' studio in Devon complete with home cooking and painting materials supplied; OR brave it to the Atlas Mountains and a donkey to carry your easel (or a mule to carry your donkey?) There is a plethora of seductive sounding art holidays out there and it is so easy to be swept along in a wash of painterly enthusiasm. Even the best websites can be deceptive and it is a case of what is left out rather than what is so painstakingly included. I do believe that the best recommendations are still by word of mouth but failing that, there is a bit of useful homework you can do before writing that cheque. Here are a few tips to help you decide.
DO: Google the tutor; if they are not named or don't have a website then you can instantly eliminate from your list. It is important to research the style of the resident artist and make sure that they at least have a working knowledge of your chosen medium.
DO: Contact them direct and have a chat to give you a better idea of their teaching techniques and what to expect. Don't be afraid to ask for a reference.
DO: Ask them how often you will be going out to paint and what sort of itinerary it is? You don't want to find yourself being bussed into three locations a day (do you?) Will you have to carry your own kit a long way – is there shelter from the elements?
DO: Check the climate for the time of year – at the risk of sounding obvious, this can make or break a course unless there is an undercover studio with all facilities nearby.
Fig 2. Montazzi(2016) by Amanda Cooper 34cm x 28cm Pen and wash on Khadi 320gsm cotton rag paper.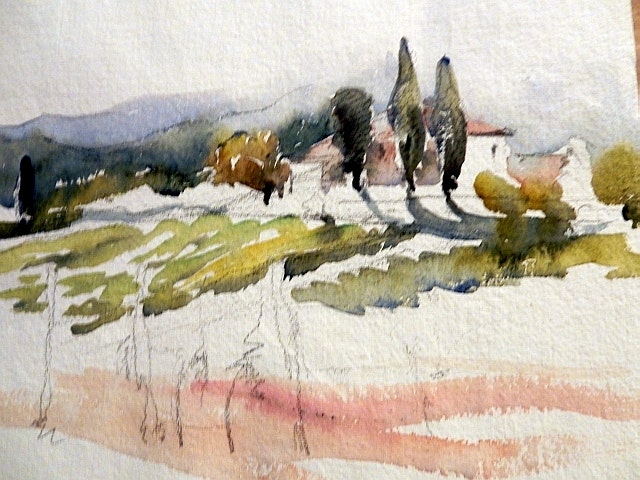 Of course you don't have to go abroad to find a good course, there are plenty of fantastic painting holidays in the UK which are accessible and extremely good value. On the subject of pricing in general, painting weeks range from about £750 upwards to £1500 p/p. depending what is on offer. Always check the small print to see if all the meals are included/with or without alcohol? Is there transport to and from the airport?
DO: Check your baggage allowance carefully. Airlines differ on this.
DO: Ask if easels and sketching stools are provided (useful with luggage restrictions) plus some courses offer materials as well, although you would want to check which ones exactly. Ask if there is a supply of white spirit /turps /brush cleaner, as these kinds of liquids cause problems at the check-in desk. Several students I know have had things confiscated and one was sent to the back of the queue at Stansted to check in her DIY canvas making tools. In my experience those big DIY tool boxes are frowned upon as hand luggage, particularly if they contain tubes of paint and tools.
DO: Put some thought into the transport of oil paintings on the return journey. Some paint boxes have a really good lid in which they can be slotted, otherwise I would consider having my boards cut exactly to the size of the suitcase. Always wrap tubes of paint in a plastic bag as they can have a funny reaction during the flight. Take a limited palette in whatever medium.
DO: Bring sturdy Footwear – if necessary wear it on the plane! (BA will also take walking poles in the cabin, if well wrapped)….and socks!
DO: Check the single supplement details in the small print - non-painting partners are often most welcome and might even receive a discount. I know that the Single Supplement seems very unfair – you can rent the biggest house in the world but even if it sleeps sixteen, the occupancy can be instantly halved if everyone is single. If you happen to be on your own and decide to share with a tolerant friend….make sure the room is a big enough "twin"!
DO: Check the Foreign Office website if you are going somewhere that could have political unrest. https://www.gov.uk/foreign-travel-advice. NB If the Foreign Office advises against going you will NOT be covered by insurance. Similarly http://www.masta-travel-health.com will tell you all you need to know about vaccinations. Make sure your travel insurance is up to date.
DON'T take too much stuff – many an artist has sacrificed his tuxedo for his turpentine. It is worth taking time to get your equipment right because airlines don't take kindly to suspicious looking bottles/jars/tubes/knives. My ploy is to pack all of these into the very bottom of the hold bag. My art bag doubles up as hand luggage with an additional bum bag (for passport and money) which could fit into the former if they get picky. Packing is a question of priorities and common sense. If I told you that two formidable lady students came all the way to Sri Lanka with their best blue suits and diamond brooches in order to visit the elephant polo in Galle, (over one hundred degrees) then you will understand where their priorities lay!

WHEN YOU GET THERE:
Fig 3. Painting on the terrace at Campriano. Pen and wash by Amanda Cooper35cm x 33cm on Langton 130lb Rough Grain.
DO: Respect the local culture –for example alcohol is prohibited in most Muslim states. However some restaurants and bars are happy to serve you if you bring your own, but don't make it obvious that you are drinking.
DO: Keep your belongings where you can see them, or you run the risk of having an incident like we did, when all the Moroccan school children were let out at midday and caused chaos, shouting and poking. I had to bribe a nearby stall holder to chase them away!
DON'T let bad weather get you down, should the unthinkable happen and it isn't sunny, just make sure you have clothing options – I usually advise people to bring a hot water bottle and a bathing suit! Try to see gloomy weather as an opportunity to experiment. If you are prepared to make sketches quickly, you can always finish off your picture later. Be flexible and try to think outside the box when deciding where to sit- a more interesting subject can materialise from an unlikely spot. Your tutor can't always be there to advise on every single aspect.
Fig 4. Maggy painting near Lectourois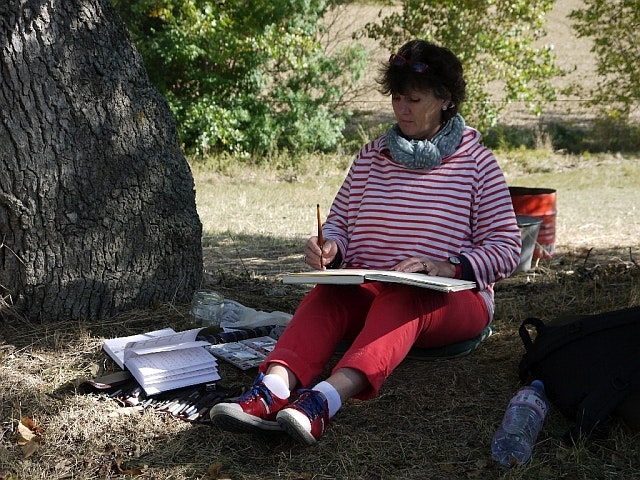 DON'T be insensitive with your camera by poking a huge lense where it is not welcome! I have so many photos where I genuinely thought that the person was oblivious to my little instamatic, but in every single case, the person in question had looked up. It is worth remembering that the fact that you have flown into some countries means you have inestimable wealth in their eyes. Tact and courtesy will get you into far more places than you think, but be aware and always ask permission if you are sitting outside someone's house or shop.

DON'T go flashing your cash or even too much flesh! Many churches require ladies to have their head and shoulders covered too. (Legs go without saying!)
Fig 5. 'Meena'. 30cm x 23cm watercolour on Langton sketchbook paper by Amanda Cooper. This little girl was proudly tending her family's camel and calf – she was happy to pose for us so long as we paid!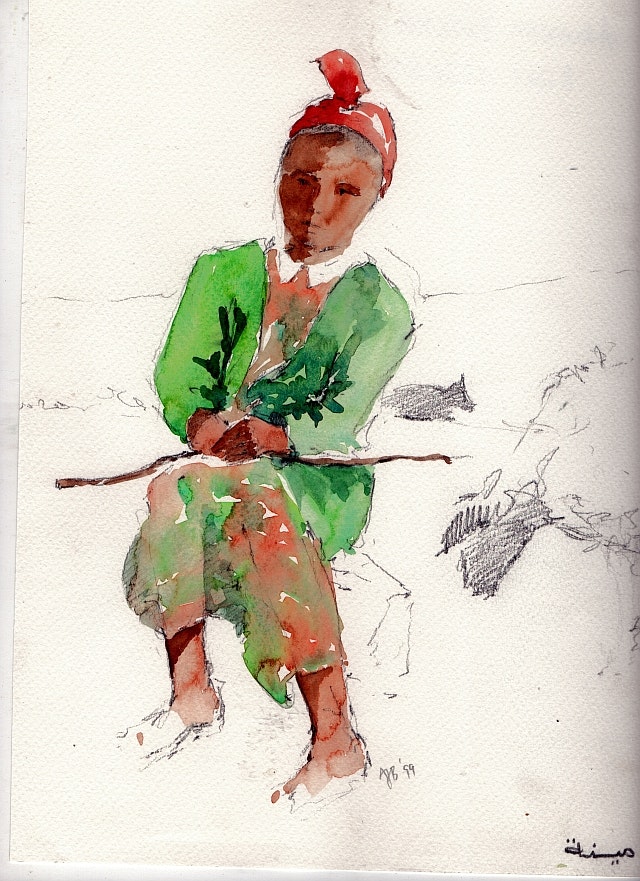 DON'T go anywhere too remote and rough if you are not as nimble as you once were! It is as well to check how far you have to walk or how steep the stairs are? Some places have lethal narrow stone staircases without bannisters. www.tripadvisor is a good barometer for this kind of detail.
DON'T be too proud to take a walking stick if in any doubt.
DON'T worry, this is meant to be a holiday! Joining an unfamiliar class can be very daunting but you can take heart from the fact that everyone is in the same boat however confident they may appear. It is always a relief to the tutor if you are organised and ready to leave on time in the morning; you may be worried about painting in a small town where people will walk past, but if they do they are always appreciative. This is where the advantage of being able to sketch standing up does come in handy because you can always run and hide or you end up with an audience like George in this picture!
Fig. 7. Photo of George Butler drawing with an audience in Romania. May 2014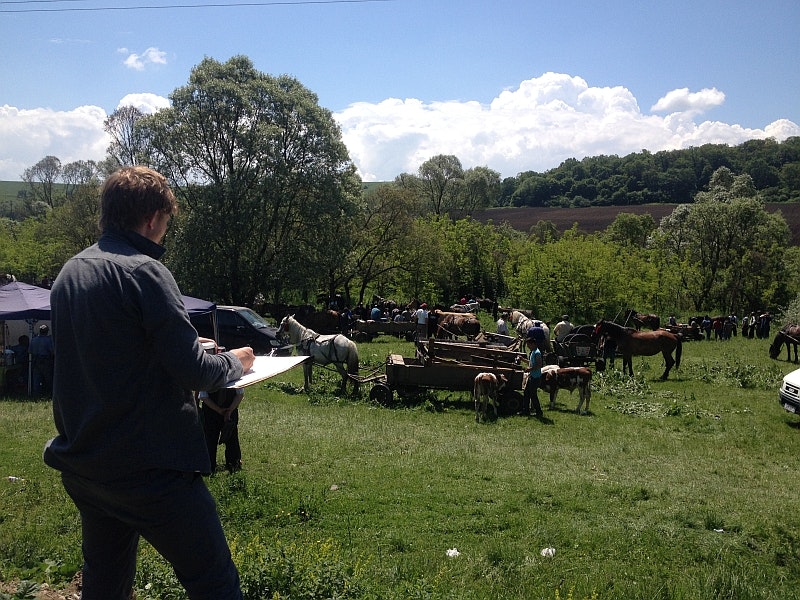 DON'T be the one who is always last!
DON'T forget your money/ camera/ Sunhat/ sun cream and a sense of humour. If you can't buy the Daily Telegraph or get bacon and eggs for breakfast, you might have selected the wrong holiday!
Fig 8. "The Art Class" 60cm x 50cm. Oil on canvas by Tom Coates