TRANSYLVANIAN TRAVELS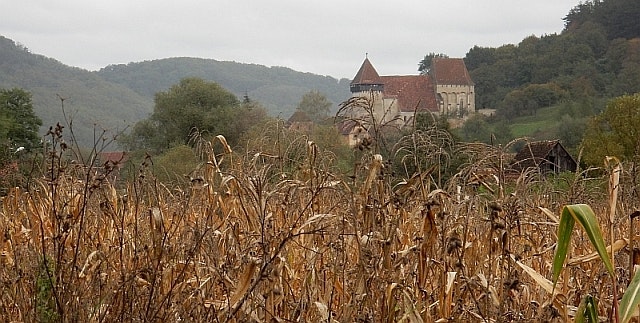 Whenever you think of Transylvania the first word that pops into your head is the "D" word. Although a fictional character in the book by Bram Stoker, Count Dracula was in fact inspired by one Vlad Dracula, (Vlad the Impaler), who spent much of his adult life in Walachia and indeed ruled it sporadically in the 1400's. So it was with some anticipation and excitement that we boarded the appropriately named Wizzair flight to Tirgu Mures last October, wearing our walking boots and most of our clothes, so that we could maximise on art equipment. You need to pack carefully for a trip like this as it is almost impossible to get everything you need into an economy cabin bag (although by the looks of other people's they definitely had!). They are quite generous on this airline so don't stint on hold-luggage.
Arrival was well after midnight since we had a long bus drive from the airport. We woke a few hours later to surroundings - seemingly unaltered for centuries - apart from the odd crudely modern invention like a concrete telegraph pole or tractor interrupting our view. By morning, cows were being gently encouraged to graze on untainted verges; nothing had been near them other than a scythe for the last couple of hundred years. A land that is still mostly agricultural and superstitious in its ways, it is easy to see how the vampire myth was cultivated – all the villages are dominated by fortified Saxon churches with imposing spires that rise up from the landscape in a slightly menacing way, depending on the weather. That said, some of the older villagers are still more afraid of the brown bear (and NO…we did not see one)
Our first morning was a little drab but we only had to step outside our front door into what we now considered to be 'our' village. Always go prepared for weather - this particular October was chilly so it was not possible to linger for long and we had to be ruthlessly economical with materials. This is all part and parcel of working 'en plein aire' - you just don't capture that atmosphere or emotion from a photo, however brilliant it may be. You have got to have BEEN there in person, on the day; hot or cold. Paintings can always be worked up from the briefest of sketches while the scene is still fresh in your mind.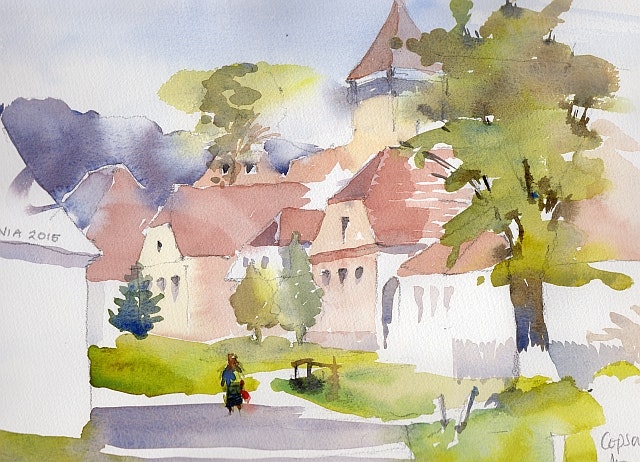 Fig 2 Copsamare. Watercolour (37 x 30cm). Painted in situ. The roof tops are a very specific red, (almost purple) so I added a tiny bit of Alizarin to Burnt Sienna. Brown madder would have done the same job. Some 'Green Gold' with Ultramarine or Raw Sienna was employed to make some speedy green tones
After a long journey it is important not to be too hard on yourself – don't expect a masterpiece on day one! Give yourself time. Sometimes you can't make the decision of what to paint until your hand has acted as a catalyst to the weary brain. Let the hand decide…your sketch book/travelogue will be your bible when it comes to working drawings later on. This is my group doing exactly that with some quick 'thumbnail' sketches of the unfamiliar surroundings, much to the amusement of the locals.
Fig 3 a ) Getting into the 'zone' on day one.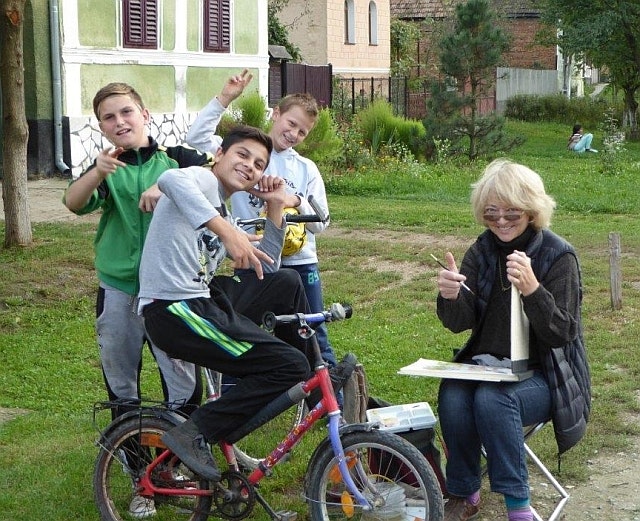 Fig 3b )Local gossip after an alcoholic breakfast (his not ours!)
ON this note; do always check that your chosen place to sit is appropriate – you may unwittingly be in someone's front garden or bull pen. The locals will always work out who you are, very early on in your stay and will be more than generous and accommodating if you ask - but don't assume. I am always cautiously optimistic because my artist son was chased out of a rural Romanian village by a man with a bull whip a couple of years ago!
Not having a car enabled us to stay local and we were only too happy to walk and explore around and about. There was so much to paint that we could have stayed for months. You don't have to go far to find old farmsteads and houses that have never been touched by western ideas of civilisation. Beware the dogs though and this is NOT just in Romania! You can see this type of street all through Transylvania, a legacy of the Saxons who departed in 1990 packing their bags and taking their farming practises and wine making techniques with them.
Fig 4 Copsa Street Sketch. 3B Pencil in a www.moleskine.com (21cm x 13cm)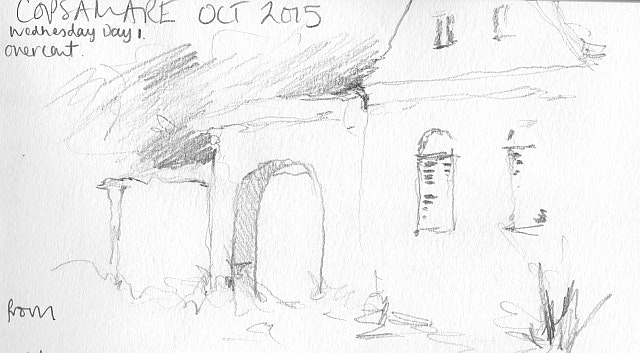 Fig 4 b) Copsa Street dog. 20cm x 38cm. Watercolour with sepia pen and Cobalt for the 'Transylvanian' Blue.
It is no picnic trying to survive in rural Transylvania. Many of the men have left home to find work in Europe and little kids run about semi-wild (these may be gypsy children, it is hard to tell.) I confess to putting this next picture together on my return home because the boys were not actually in this doorway. Nor were they at all easy to draw because the older one was natural born poser and determined to be the only one in the picture
Fig 5a) 'Cold Comfort Sketch. 5b) 'Cold Comfort' (50cm x 74cm) 5c) Detail of boys.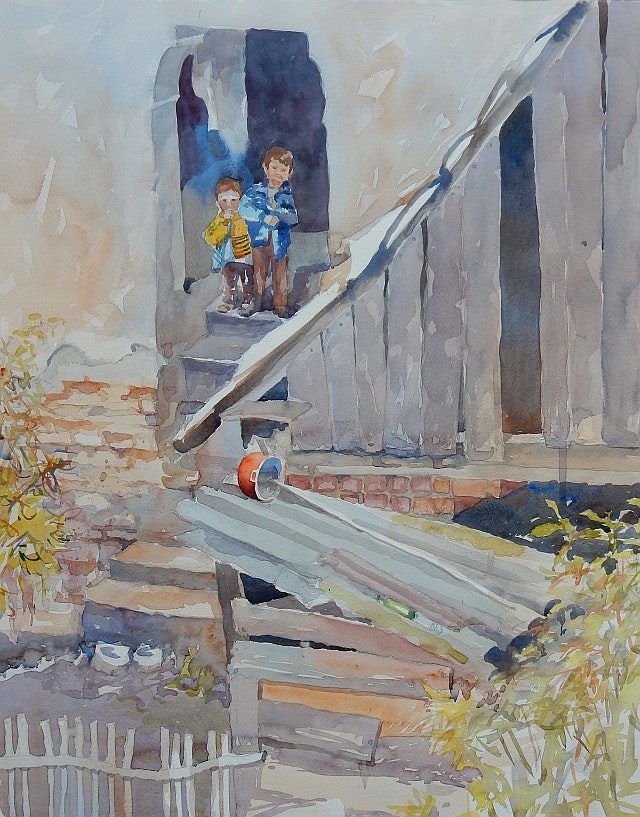 One of the most memorable mornings was spent with another foolhardy artist taking zero shelter in a Saxon doorway to paint this view - as you can see it was chucking it down with rain and we had to work flat out, with rain sheeting into our faces, which I found strangely liberating.
Fig 6) photo Alma Vii Fortified Church
Fig 6 b) watercolour detail
Fig 6 c) Finished painting of 'Vale of Tears' Alma Vii. 40cm x 30cm watercolour on Khadi rag paper (NB I left out the storks nest and a lot of other things besides!)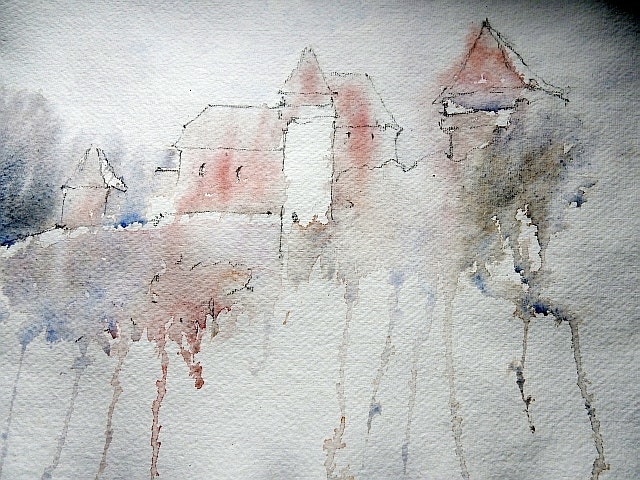 We were given a memorable tour of the region by a young conservator, who included most of his friends and family in some capacity – not least the lunch, with musical accompaniment. Passing through the local town when we came upon this family in a doorway. The grandmother resigned; the mother wary and the daughter confident. What did they tell us about Romania today? It was impossible to capture it all but if I can close with some words a friend on the trip wrote afterwards, I think it says it all: "Our quest for the picturesque, strong-hued enough to us, may be only a pale wash or faint complementary of the real thing. Portfolios swelled modestly…..but in the end, did we paint it or did Transylvania paint itself on us…?" Anthony Stanton 2015
Fig 7 Sketch and 7 b) 'Three Generations' Watercolour and sepia ink. (38cm x 26cm). I used Permanent Rose for the tracksuit bottoms, aware that I could easily overdo it with too many bizarre colours, even though that is exactly what they were wearing.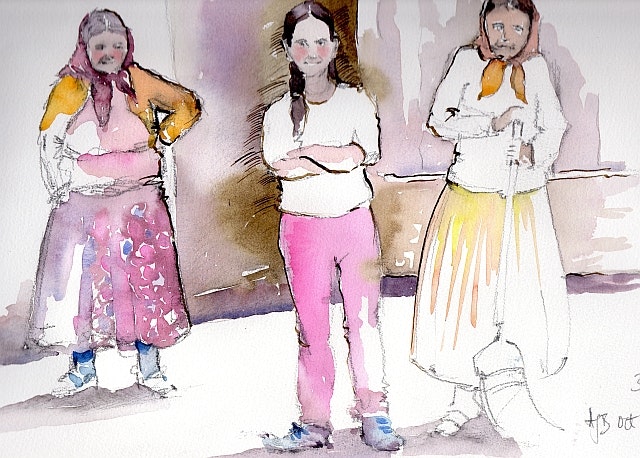 NOTES ON PACKING:
Take a light board that fits into your suitcase and paper or pads that are pre -cut or primed to fit this board. I also found it helpful to put some light colour washes (for example raw or burnt sienna, ultramarine ) into your watercolour sketch book, as this saves time in the long run and also helps to address the white page.
A compact watercolour travel box (Winsor & Newton or Schminke do excellent ones)
Discard Black and white
Kitchen Roll in case it's not immediately available.
A strong bulldog clip in case of high winds!
Plastic Container for water(though you can cut the top off a water bottle)
A lightweight easel. (optional)The Herring Versatile Easel is very sturdy and comes in its own bag.
A decent rucksack, which can double up as hand luggage.
Camera, mac, sunhat and money go without saying. The currency here is LEU and there are not a lot of ATMs about, so get it at the airport or in a town.
Oil painters; take a reduced palette packed into plastic containers or small bags for convenience. Your sketchbook will be vital for making tonal notes in order to develop your paintings back home. It is advisable to prime your boards before departure to save time on the trip. Choose your brushes with care and consider how you are going to clean them. Spirits and solvents don't go down too well at customs. There are some good cleaning materials on the market. Some painting friends still swear by the old fashioned bar of green 'fairy' soap.
For colours, I would take a basic selection of: Flake White, Ivory Black
Chrome yellow, Yellow Ochre, Burnt Sienna,
Prussian Blue, Cobalt Blue,
Remember to pack paints in a plastic bag in case they leak en route.
Tear off disposable palettes are brilliant for these kinds of trips.
A good brush carrying roll or tube is well worth it.
Water-based oils and acrylics are also brilliant for painting on the move and gathering material for later paintings.
Pastellers, take a really robust pad of neutral tints and by that I mean the papers with a bit more 'tooth' like Senelier 400gsm heavyweight pastel card , they come in 3 sizes and range from £13 to £30.Equally good is a pad of PASTELMAT SHADES because they will withstand a lot of movement.
Sort your chalks out and reduce them down to bare essentials. You can transport them in plastic boxes (sorted into tones) with rice or rice flour as protection and a good cleanser. There is a good pastel carry bag available now; those huge wooden boxes are wholly impractical on a painting holiday. Although there is something called the Guerrilla Painter Pastel Carrier www.cheapjoes.com which does look practical and swears that it is very light.
You might need some 'spectrafix' (or hairspray!)for bringing your work safely home. Recently a friend had no problem carrying her pastel portfolio through security and stowing beside the aeroplane seat. Well wrapped and taped to minimise movement.
Fig 8 and 8 b
Transylvanian makeshift studio, the serious lack of light was due to low energy bulb supply. Reminiscent of a Dutch still life, which inspired me to have a go….
Detail of Romanian Apples. Watercolour (42cm x 30cm)
We stayed at Copsamare Guesthouses.
www.copsamare.ro
All photos and images by AC