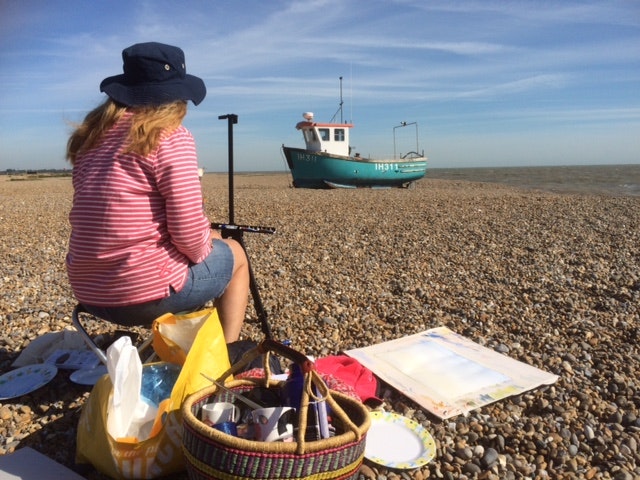 Sketching on the beach at Aldborough, September
ART GROUP INFORMATION - The term runs for ten consecutive weeks - roughly in line with the schools. Tuesday and Thursday mornings from 9.30-12.30 in my garden studio, materials are not provided but coffee certainly is! The group is organised on a first come first served basis and online payment is guarantee of a place. Please e-mail (see tab below) if you are interested or would like to go on the waiting list.

These mornings are small and friendly, with all media and levels welcome. The focus is helping individuals to develop their own style with confidence and not to copy the way I work. This ethos forms the basis for tutored painting tours in and around Europe, where I have been tour leader/tutor for Arbuthnott Holidays; Steppes Travel and La Dogana Summer School, Umbria. In the last few years I have been doing Fit to Paint holidays along with my friend Jackie Colburn who is a fully trained fitness coach. Taking inspiration from the masters and my own experience at drawing school in Florence, I use tried and tested techniques to help develop hand/eye co-ordination in my students whatever their level of ability. During the chilly Cotswold winter there is always a quirky still-life on the go for the whole group. In the summer, we are to be found out and about, in various gardens and farmyards locally - sketch books at the ready.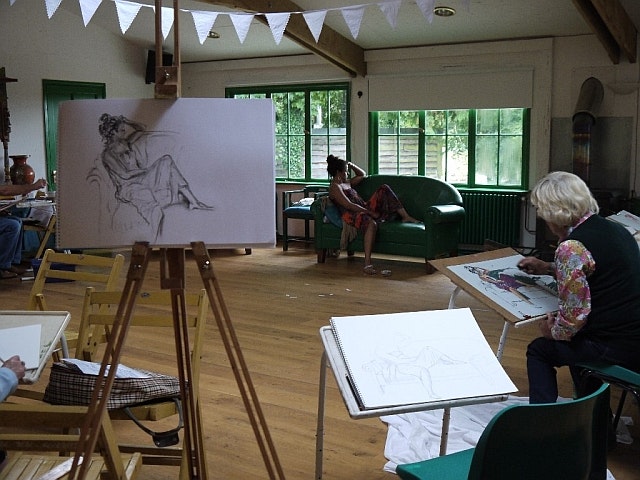 Life-Class workshops have become a regular feature here in the studio. There is of course, no better discipline to further your drawing technique. The mere practise of doing this will improve all aspects of your artistic dexterity and observation. The use of pure colour is equally important and from time to time I organise watercolour workshops and demonstrations. This has taken me to some interesting village halls to give talks and demonstrations. Bury Knowle Art Group (Oxford) The Charlbury Art Society, Lechlade, Stokenchurch, Chipping Campden Art Society and the Windrush Pure Watercolour Society.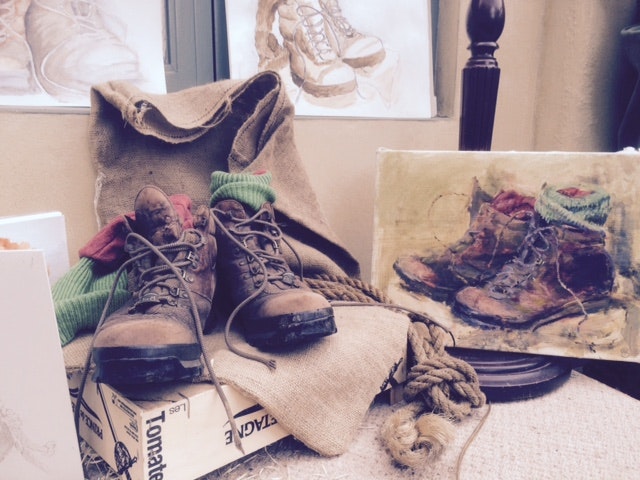 Still-Life: It is currently fashionable for artists to use a 'cut and paste' method borrowing ready-made objects and images and combining them to create a picture. Drawing itself becomes a side-issue in this slightly ironic take on things. It is also trendy to what I call 'not draw' … and 'not paint' however you really do need to be able TO draw before you can do this. You have to understand what is already there before you can leave it out! By learning to draw, you find that you observe more closely, becoming more involved with the 'here and now' and therefore your own creativity is developed to the full.(AND IN 3D!)
TERM DATES WILL BE PUBLISHED HERE WHEN I HAVE A VACANCY

Amanda Cooper
Bolters Farm
Chilson
Chipping Norton
OX7 3HU