This year I am going to try an accurate rendition of the actual seasons, through the medium of our garden. I could have chosen generic monthly subjects, but I am going to attempt to stick to God's plan ha! ha!
There will be more.....and there will be writing! There might even be a book... but for now the Artists and Leisure Painter are going to be publishing it every month from 2020


JANUARY
'It is the artists's part to love life and show that it is beautiful; without him we might well doubt the fact' Anatole France, 'As The Poet Says.'
Fig 1. 'Bolters' water colour sketch of the back door on Arches rough grain paper lightly primed with an Aureolin yellow /Raw umber underwash. I did not do much drawing but instead made some rough swirly marks in umber and also candle wax for the willows which dominate our garden at all times of the year.
I was glad when the last winter was over and I could get back to work in January, a month of subdued hues – and muted palettes, which mine is at the sunniest of times. Arriving as a bit of a disappointing add-on to December, January was comparatively dank, so if I was going to make anything happen with regards to a garden diary then I had to start work, whatever the weather. In wintertime our palette is naturally limited because there is seemingly nothing much else on offer. Our surroundings give a good impression of lifelessness, but don't be fooled, there is an awful lot happening both above and below ground just lurking, waiting for us to capture it in paint. My plan, which was inspired by the artist/gardener Cedric Morris, (of which more to come) is to take a fresh look at our own garden patch and make a water colour diary of its progress through the year in what can only be a rather muted response to Sir Cedric's flamboyant palette.
The quiet evening kept her tryst:
Beneath an open sky we rode,
And passed into a wandering mist
Along the perfect Evenlode.

The tender Evenlode that makes
Her meadows hush to hear the sound
Of waters mingling in the brakes,
And binds my heart to English ground.

A lovely river, all alone,
She lingers in the hills and holds
A hundred little towns of stone,
Forgotten in the western wolds
Hillaire Belloc
This poem serves to remind me that in a world of increasing reliance on gadgetry the need to record for 'real' grows ever more important. Our garden was a farmyard not thirty years ago and there is still much evidence of this existing in moss-covered walls, ancient apple trees and a small tributary of the Evenlode. Although not the most obvious in terms of painting, our back door is the place where I notice the most change during endless cups of coffee on the stoop where the birds scuttle for food under the kitchen window. Nothing is truly symmetrical in the immediate garden below, although it looks as if it should be…so it is always a challenge, both horticulturally and artistically.
Fig 2 Winter Birds sketch: Here are some more residents that the sparrow hawk has not decimated and who seem to appreciate what's on offer. It struck me that the feeders could make some interesting negative shapes, but drawing birds is another thing…!
Fig 3 photograph and Fig b) pen and wash. Early light from the kitchen door, 1st January 2019
Looking down steps onto a triangular gravel bed.This was New Years Day - using sepia pen and a mix of Hookers Green, French Ultramarine and Raw Umber.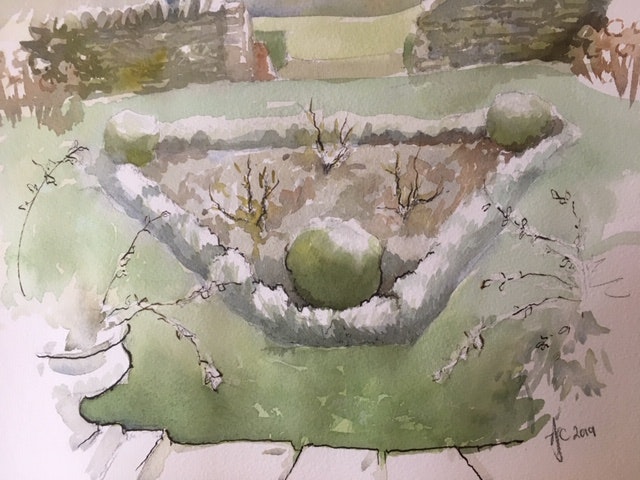 Don't be seduced: Bitter experience has taught me that if a pretty view is served up to you on a plate then you feel almost duty bound to try and replicate it and this rarely works in creative terms. The lure of the classic view or the most comfortable chair is always seductive but opt for the LEAST obvious where possible. Admire the garden then turn around and look behind you –you might surprise yourself - any extra moments spent walking around behind the compost heap really do pay off. On the odd occasion when kind friends invite my art group to paint with words like " the daffodils are looking marvellous at the moment…" the alarm bells of spring can be positively deafening. Nothing wrong with daffs but have you tried painting them en masse….?
Fig 4 a) and b) Winter Compost Heap with all the associated shapes and shades that go with it - old gates, bits of wire and pots, all of which have challenging and interesting structure. The colours are Burnt Sienna, Raw Umber, French Ultramarine and a touch of Hookers Green for the unnaturally coloured plastic pots in the foreground. Sometimes you have to employ a man-made colour for a man-made object. I am risking including the photo here because I think it is helpful to see what it is possible to leave out. Photoshop is what painters have been doing for years.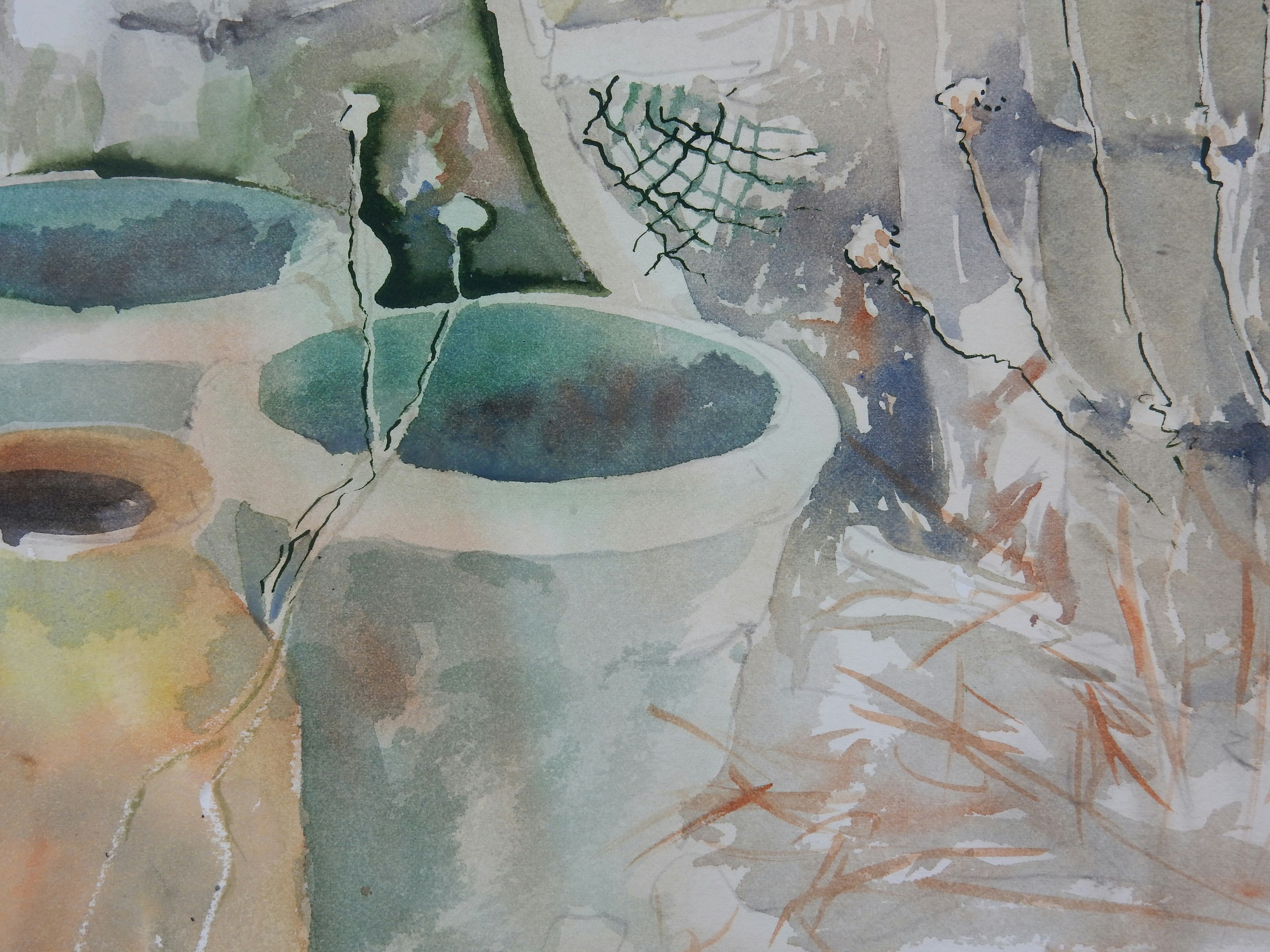 Composition tips: If you are having difficulty deciding what to draw, then try an old-fashioned 'viewfinder' to help you edit the baffling information which confronts you. To do this, cut a small rectangular hole in a postcard measuring about 4cm x 3cm - DON'T make it too big - the whole point is to limit your view. This little gadget acts as a camera lens in our heads and helps us to see what our own eye misses when confronted with a 'view'. It is also very useful in deciding whether to go 'portrait' or 'landscape' and then you can crop your sketches in both directions to see which one looks best. That smart phone editing facility may give you the impression that it does the same thing - but beware- because there is a disconnect between the information that we pick up from a screen and the actual live information that we can see for real.
Fig 5 a) b) c) and d). Blackbird. Water colour on Arches 'Rough' grain paper.
The blue of the seat made me think that I could make it into an interesting winter scene. Any colour but brown! There are quite a few layers of watercolour here, as the only way to get pale plants to show up is by making their background several tones darker. I used Windsor and Newton Sceptre Gold sable brush size 14 and a palette of French Ultramarine, Green Gold, Burnt Sienna, Hookers Green.
"In the particular is contained the universal" James Joyce.
Too many colours? You only have to look at a nursery catalogue to see how clever the illustrations are with their silhouettes and tones. Nature itself never seems to clash but our paintings can look wrong if too many colours are mixed together. Harmony and balance are vital in any picture and with watercolour there is nowhere to hide. It is not a medium that lends itself to the precise colour of a plant but if you limit yourself to say- five colours - then the rest should follow…Ha! If only it were that easy. It is important to trust your instinct which is so much sharper if you are actually working en-plein-aire, so go with the mood of the day and enjoy the blending of colours as you see fit. After all it is your painting and not anyone else's.
Borrowed landscapes and interlopers: As artists and indeed gardeners, we have to seize on little compositional gifts – whether it is passing clouds or shadows - sometimes they are all you've got! It is not often that sheep just stroll obligingly into view under my studio window and even though they were lurking behind the post and rails, it was an opportunity. I had to work hard at their shape so that they did not end up looking like cotton wool shapes on a baby's bedroom mobile. As you can see, they are not white, but in fact I used quite a strong mix of Burnt Sienna and Ultramarine to get their dark tone against the backlight. I carefully left a dry strip of white paper round their rotund outline, because they almost always have one! I have read that sheep have been bred 'white' because of the value of the wool; otherwise they would all be brown or grey. (As they still are in hill country)
Fig 6a) and b) Sheep on the bank, with pigeon.
Here I used a muted palette of Hookers Green (translucent) for the frosty grass. Green gold/Raw Umber for the fencing and trees, with strong burnt sienna in the right foreground. French Ultramarine/Burnt Sienna mix for the background trees. I have tried to counteract the fact that there is a fence straight across my eye line by including its own shadow in the composition. I have also made sure that the sheep have a shadow, which is a useful tip when painting any grazing animal.
Subject matters: There is no need for your garden to be big or tidy – in fact the more topsy-turvy and alternative the better. The tool shed is the best place for unreconstructed still-lives and your local park will also have a huge variety of seasonal change which is not always apparent at first sight. I can thoroughly recommend taking on a project which requires you to draw regularly. Although I confess that I have not always managed to be quite as assiduous as I intended, (someone has to do some weeding after all…) it has also helped to make copious written notes in my garden diary which in turn jogs the imagination on a forgetful day. From my experience of keeping more of a 'workaday' book, (made of Khadi recycled paper)…it helps you to develop as an artist, to become more spontaneous and less afraid. Until you get to February….
"A garden is a complex of aesthetic and plastic intentions; and the plant is, to a landscape artist, not only a plant – rare, unusual, ordinary or doomed to disappearance – but it is also a color, a shape, a volume or an arabesque in itself." Roberto Burle Marx
FEBRUARY
Edward Ward, 'February'. (1667-1731),
He who would, in this Month, be warm within,
And when abroad, from Wet defend his Skin,
His Morning's draught should be of Sack or Sherry,
And his Great Coat be made of Drab-de-berry.
Fig 1a) 'Footsteps in the Snow.' Pencil sketch on khadi recycled rag paper.
30cm x 28cm as my khadi sketch book is pretty much square, it was useful to make a small preliminary sketch to get my bearings. Square can be a funny proportion.
Fig 1b) Blue washes: My default position is invariably an initial wash of ultramarine to set the tones. This works particularly well in a snow scene as it is surprising how very MUCH darker the tones are compared to the white snow. Furthermore in this little picture the snow on the roof was also in the shade which meant that it had to be a tone darker than the foreground snow.
Fig 1 c) Final painting: I hope that I have built on the tones sufficiently to give the necessary depth and complement the white of the snow. The colours I used for old stone and faded greenery were: Raw Umber, Raw Sienna, Hookers Green French Ultramarine and a touch of Winser Blue for the cold sky and shadows on the snow. IF you mix Raw Umber and Ultramarine, you get a very satisfactory grungy green. And then there was the robin….( insert detail here? )
ON the first day of February 2019 – an early coating of snow surprised us, in a month that went from below zero to shirtsleeve order. Gone are the days when local farmers were paid by the council to come round with a snow plough attached to their tractor – in our small hamlet, we are left to fester for days on end. So no excuse not to paint …
At this time of year both the gardening and painting palettes become altogether more interesting. The impression of lifelessness in the winter garden could not be further from the truth; in fact the muted blues and dusky browns of mid-winter are undergoing a very subtle change to a sort of orangey/green tint, which is quite hard to depict. Although I have found that Raw Umber and Gold Green can work pretty well.
Fig 2 If anyone can, a can can can? 32cm x 23cm Painted in watercolour on Khadi recycled rag paper. 01/02/19
Negative Shapes: Don't be afraid to make drawings and paintings in the snow, the shapes and forms that are thrown into silhouette by a coating of white can be very satisfactory. In this painting of the watering cans, I had fun playing with the negative shapes, such as the gaps between the spouts and the can itself. Handles in general can be very tricky to get right and I suggest looking at the shape of the hole rather than the handle itself.
I had optimistically left these cans out all winter in case it snowed. As an artist you sometimes have to make things happen! I drew the shape of the snow on the cans extremely carefully to avoid the risk of it looking like a Disney image. It needed to look heavy so I left the paper virgin white and washed in the background colour of the beech hedge in Burnt Sienna and French Ultramarine to act as a foil. These were the only other colours I used and much the same palette applied to my next painting that followed on almost the same day in order to make the most of rapidly disappearing conditions. Setting up any still life is somewhat similar to planting up a flower border - stick to groups of three or five for maximum effect. Groupings of the same thing - whether it is spades, flower pots or hats - are a good way of getting an effect.
Fig 3 a) 'From the back door' watercolour on Saunders heavy watercolour paper. 56cm x 39cm.
This picture comes with a health warning. DON'T ever be tempted to use masking fluid as a substitute for snow! Here I used very nice deeply pitted paper and the masking fluid (possibly past its sell by date) refused point blank to be removed – complete disaster. It formed a horrible rubbery substance, which no amount of coaxing with brown paper and irons/ scalpels and rubbers would budge. I won't tell you how I resolved it – but Tippex had something to do with it. Suffice to say this painting is only suitable for a photographic image, as it was completely ruined. Lesson learnt.
Fig 3b) Detail of Winter Willow shape and distant tree shapes observed but only in silhouette.
This quest for negative shapes also helps a great deal when drawing winter trees. The whole exercise becomes much more interesting once you start to get involved with a shape other than the one that you perceive to be 'treelike'. In my experience, the novice painter often tries to make trees over fussy and this is a mistake, particularly when they are in the background. It is far more effective to observe their shape and form by drawing well and doing several pencil studies whenever you can. Here are a few examples of suggested tree shapes extracted from this study.
Fig 4 a) Shorthampton Church in the Snow
Fig b) Tree detail from Shorthampton Church. Venturing outside our garden briefly for a fifteen minute walk, this painting was done as a Christmas card a couple of years back. I have included it because it addresses many of the things that I have talked about in this article, such as limited snow palette, tree shapes and tone. Note the mauve (Ultramarine and Alizarin) shadows in the foreground snow.
Very soon after the snow we were able to have a much needed bonfire and I found this constantly moving subject (ie my husband…) quite a challenge! Plus I can never resist a wheelbarrow. It has a strange perspective all of its own, as you have probably discovered if you have ever tried to draw one. Part of the reason for doing this diary is to practise drawing and painting in a more spontaneous way , observing things as they are happening in that very moment and trying to find new subjects and viewpoints within our own patch. I did this painting in one 'hit' with every intention of going back into it and working it up, but I have resisted the urge to ruin it and prefer to leave it as a fresher piece of work.
Fig 5. Man at play. 68cm x 29cm a double page spread in my Khadi Sketch pad with French Ultramarine; Green Gold; Burnt Sienna; and a touch of Cadmium red. Constantly aware of how fast I would have to work if this was going to work, I kept the mix very wet and dropped in the brownie/green colours, followed swiftly by the red/orange of the flames. Then I took a little stick and dipped into sepia to create the look of twigs sticking out of the fire. These had to be done when the centre of the fire was still a slightly wet. It often helps to work across the divide or staple because it makes you feel less precious about the whole endeavour.
Fig 6a) Sketch of The Bramley. Sadly devoid of any apples this year due to late frosts. 10 minute sketch 29 x 19 cm on cartridge paper with Winser Blue and sepia ink.
Fig 6b) The Bramley painting 40cm x 30cm Watercolour employing three colours – Winser Blue, French Ultramarine and Burnt Sienna Watercolour on Saunders heavy watercolour paper. Here I experimented with the Winser Blue for that slightly sharp cold sky and Burnt Siena/French Ultramarine to create the darks. I don't often use Winser Blue but it has its moments because it is lovely and translucent. I have tried to keep the background wall and trees very vague and eerily dark. I did draw some tree shadows on to the snow before I started to paint, then I improvised.
I don't know if the subject of snow will come up again this year….but if you ever get the chance to look at the work of Charles Henri Contencin (1898 to 1955) or more recently those of the landscape painter James Hart-Dyke, then you will see the fantastic tones and shapes they imbue into a snow scene. Admittedly these are both oil painters and can therefore use a warm ground for a cold painting as the advice goes. (Contencin literally uses vermilion) While it is not so easy to do this with watercolour paper I did once sell a picture to someone who said they wanted 'the snow scene' when in fact, all I had done was a summer landscape in vaguely mauve washes! I never let on…
Fig 7 "Should I stay or should I go…" pencil thoughts from a Norfolk terrier towards the end of February 2019. Pencil on cartridge paper 29cm x 19cm